The Professor
Hot Pass Member
Hello, I decided today I will run the full 36 race NASCAR Nextel Cup Series schedule with a 2005 car set.
I will be driving the #86 Ron's Waste Disposal Chevy, render by
@garrett1127
I will be running realistic weather, 42 AI cars at 85-95% depending on track, default fast setup, 10% race length, full damage and yellow flags.
Race #1 Daytona 500
In this race, I would start at the back of the pack on my own choice, my goal was to just survive. I made one attempt, but wrecked before half way, so I tried again.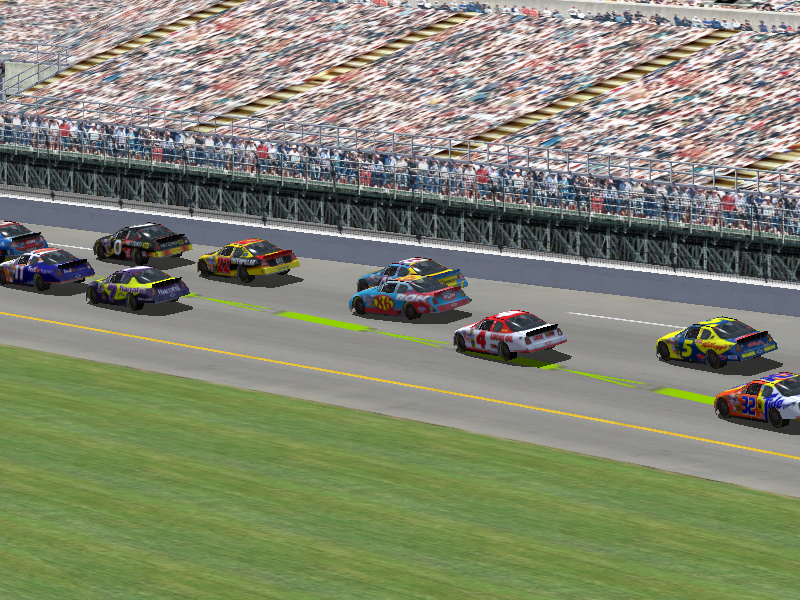 Here I am a few laps in, passing cars in the back.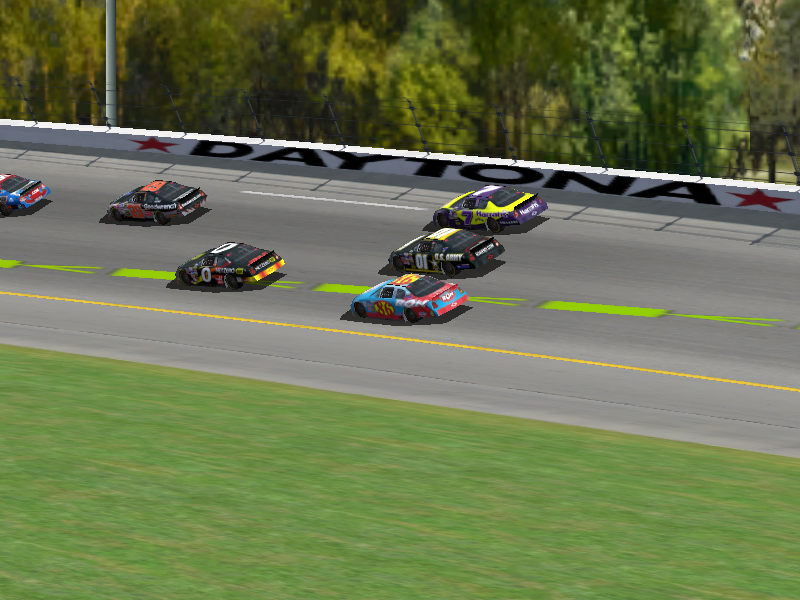 As I made my way into the top 30, I would make a bold 3 wide move, and make it stick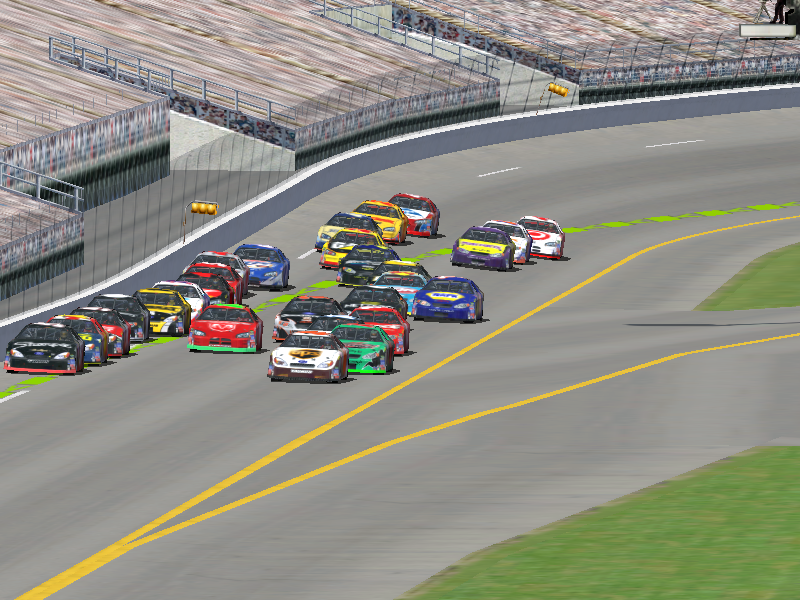 Here, I freaked out, and lost all spatial awareness, wiping out Michael Waltrip, but I would survive the wreck and lose no positions.
And here is the 3 wide finish for the 20th position. I enjoyed my first real plate race, though it was intense.
Here is the finishing order.
1 8 99 C Edwards 151.687 20 1 180 Running
2 15 16 G Biffle -0.19 20 0 170 Running
3 10 21 R Rudd -0.28 20 0 165 Running
4 30 0 M Bliss -0.36 20 0 160 Running
5 6 42 J McMurray -0.44 20 0 155 Running
6 4 8 D Earnhardt Jr. -0.54 20 0 150 Running
7 7 88 D Jarrett -0.60 20 1 151 Running
8 3 19 J Mayfield -0.69 20 1 147 Running
9 16 24 J Gordon -0.69 20 2 143 Running
10 9 97 K Busch -0.78 20 0 134 Running
11 24 29 K Harvick -0.80 20 0 130 Running
12 25 31 J Burton -0.88 20 0 127 Running
13 19 07 D Blaney -0.93 20 0 124 Running
14 11 48 J Johnson -0.97 20 14* 131 Running
15 14 01 J Nemechek -1.02 20 0 118 Running
16 5 20 T Stewart -1.06 20 0 115 Running
17 22 12 R Newman -1.14 20 0 112 Running
18 18 38 E Sadler -1.16 20 0 109 Running
19 1 6 M Martin -1.25 20 1 111 Running
20 43 86 T Player -1.29 20 0 103 Running
21 29 10 S Riggs -1.29 20 0 100 Running
22 2 2 R Wallace -1.36 20 0 97 Running
23 17 40 S Marlin -1.44 20 0 94 Running
24 20 18 B Labonte -1.44 20 0 91 Running
25 35 22 S Wimmer -1.64 20 0 88 Running
26 37 7 R Gordon -1.66 20 0 85 Running
27 33 49 K Schrader -1.84 20 0 82 Running
28 13 17 M Kenseth -1.97 20 0 79 Running
29 34 11 J Leffler -2.21 20 0 76 Running
30 26 41 C Mears -2.33 20 0 73 Running
31 28 45 K Petty -2.73 20 0 70 Running
32 31 77 T Kvapil -3.98 20 0 67 Running
33 32 43 J Green -9.92 20 0 64 Running
34 23 9 K Kahne -10.22 20 0 61 Running
35 36 5 K Busch -11.92 20 0 58 Running
36 40 32 B Hamilton, Jr. -12.05 20 0 55 Running
37 41 1 M Truex Jr. -14.34 20 0 52 Running
38 42 66 H Sadler -14.46 20 0 49 Running
39 39 37 K Lepage -14.66 20 0 46 Running
40 21 14 J Andretti -15.33 20 0 43 Running
41 27 25 B Vickers -41.74 20 0 40 Running
42 12 15 M Waltrip -8L 12 0 37 Retired
43 38 4 M Wallace -9L 11 0 34 Valve
*No points because it is the first race of the season